Friends of the Library
Once again Einsteins won the Friends of the Library Trivia Pursuit Challenge on Sunday, February 10, at the Smiths Falls Legion.
For the second year in a row (with a slightly different team than last year), this year's team of Heather Currie-Whiting, Annie Laurie, Jack Lessard, Chris and Laurie Mathieson, Tim McNamara and Anne Shropshire took top spot.
In its 22nd year, the event hosted 21 tables of contestants (about 204 people) and the competition was fierce; some tables seated only three participants (The Producers — with a final score of 55, not bad for three people) while others (with a little crowding) accommodated the allowed 10 members per team.
The Town team — The Risers — finished in the bottom half of the players with 68, while a new team — The Split Decisions (boxers) — made it into the top half with a final score of 71. Einsteins' score was 83. There were four second place teams — The 'B' Team, The Red Hot Trivia Peppers, The COGS and The Determinators. They each pulled together a score of 79. Third place finisher was The Perthites with 77. Other teams included The Cousins, The Travellers, The Trivial Recruits, and The Grey Matters (naming just a few).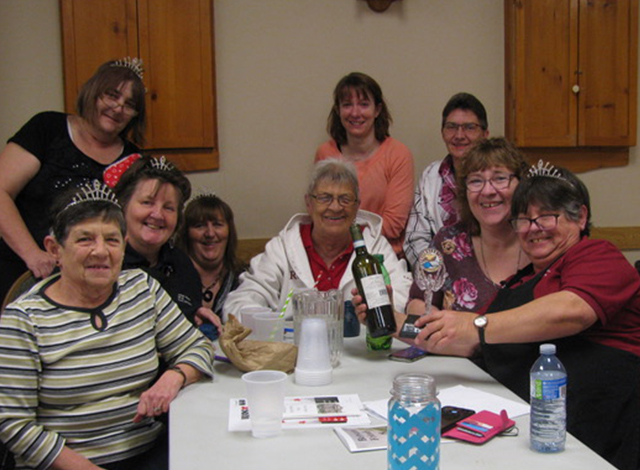 One table, the Banquet Queens, took the 'Most Improved' trophy at the final reckoning of the game. This all-female team, consisting of Legion Ladies Auxiliary members included Korleen Manwell, Donna Mcrae, Melissa Lucier, Joanne Morin, Mary Jane Quenville, Shannon Hurtubise, Debbie Burns, Heather Hogan and Heather Gard.
Rules of the game kept contenders from using any electronic devices, like phones or tablets to search out quick information. Rev. Christopher Ryan, on The Trinity Teasers team, asked plaintively, "if we can't phone, can we pray?"
Over the three-hour span, MC John Chatwood of JACK FM radio (92.3) kept the game moving along, counting down to when papers could be turned up, calling out prize-winning ticket numbers, and a bit of chatter.
Total amount raised is not yet available, but will be soon.The 23 annual Trivia Challenge is in the planning stages already, and the Friends of the Library is always looking for new volunteers. If interested, please contact Katie Hoffman at 613-983-3360 or email her at kthoffman@cogeco.ca.