The Health Hub will create one destination for the community's primary care needs and is already helping the region recruit family physicians to support 5,000 people without a primary care provider.
Shovels are in the ground on schedule to construct the new Carleton Place Regional Health Hub that will bring together anchor tenants – the local family physicians, Ottawa Valley Family Health Team, and a pharmacy – to centralize and expand primary care in support of recruiting much-needed family physicians to the area.
The Ottawa Valley Family Health Team (OVFHT) received Ministry of Health approval and provincial and municipal funding to enhance primary care in the region by expanding its Mississippi Mills catchment to include Carleton Place and Beckwith. The OVFHT has partnered with M+H Properties Group to lead the development of the Carleton Place Regional Health Hub. The Health Hub supports team-based care by centralizing all local family physicians into one medical clinic with the added support of Ottawa Valley Family Health Team's specialized programming (e.g., COPD and Asthma Program, Memory Clinic, Adolescent and Child Mental Health Program) and complementary, third-party healthcare services (e.g., pharmacy, diagnostics).
M+H Properties is co-developing the building with Gallivan Development. Phase 1 of the Health Hub, located on Costello Drive in Carleton Place, is slated to open in fall 2024.
The OVFHT expansion plans have been in motion since the Ministry of Health approval, focusing on growing the OVFHT catchment from 15,000 residents in Mississippi Mills to more than 36,000 in Beckwith, Carleton Place, and Mississippi Mills. Additionally, the OVFHT aims to attract at least five new family physicians in the first five years of the Health Hub's operation to support the projected 12,000 unattached patients in the region with the anticipated rapid population growth. The Health Hub's team-based model positions the community to increase from 15 to 20 family physicians, serving approximately 5,000 additional patients who currently do not have a family physician.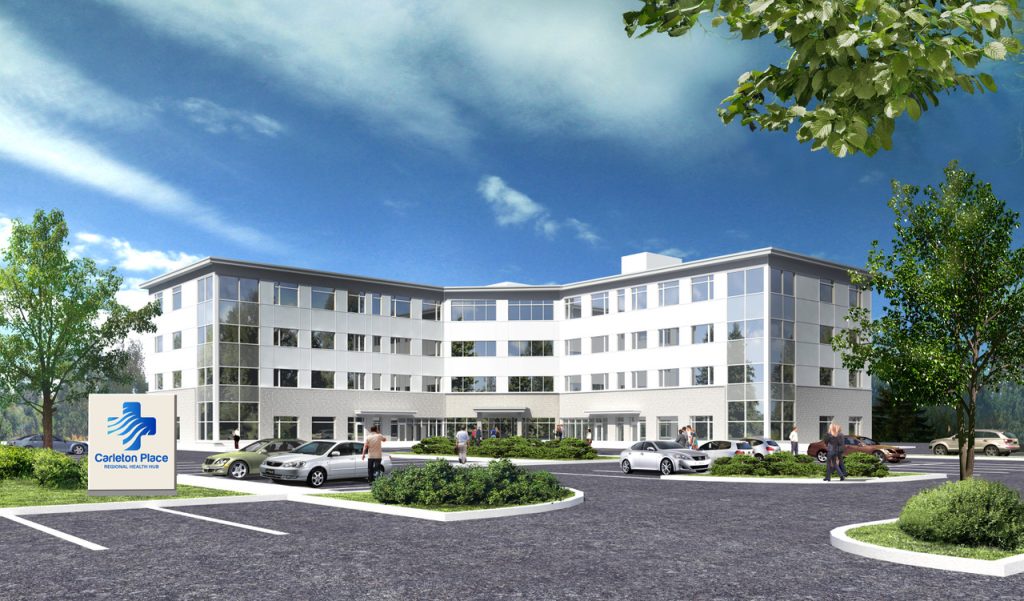 "We are seeing the ripple effect of Ontario's family doctor shortage in our emergency departments with an increasing number of individuals seeking care for non-emergency health concerns because they do not have another option," explains Peter Hamer, CEO, OVFHT. "This gap in care is costly and unsustainable for the health system and lacks convenience and continuity of care for patients. It's a key reason why we are developing the Health Hub. Through the Health Hub's team-based model, we have already begun attracting new family physicians to give more community members access to appropriate, timely care. We are thrilled the Health Hub construction is moving forward on schedule, so we have the essential healthcare infrastructure to keep pace with the influx of families moving into the area."
The OVFHT has had early recruitment success thanks to the confirmation of the Health Hub. Dr. Bita Safaie, a new family physician, recently moved to the community with the promise of joining the Health Hub's medical clinic and is taking on 1,000 patients without a family physician. With this recruitment, 15 family physicians now support the Carleton Place and Beckwith communities.
Dr. Safaie shares: "I've always wanted to practice family medicine in a small town and Carleton Place is a perfect fit for me. I love providing comprehensive primary care to my patients in the community as well as being able to care for them in the hospital if required. The continuity of care between home and hospital is what makes this so special. The expansion of the Ottawa Valley Family Health Team into Carleton Place is also very exciting. My patients will soon be able to access more health care resources in this team-based model."
Toby Randell, Mayor, Town of Carleton Place, says: "Carleton Place is extremely pleased that the lease signing with our local doctors' group and M+H Properties has been finalized. This important milestone will be just one of many that will come over the next 18 months, culminating in the vision we all started with, which was providing world-class healthcare services to our residents while attracting new family doctors to work together in a central hub. The commitment of a new family doctor, even before a groundbreaking, will, I'm sure, be just the first of many who will see the benefit and want to be a part of this collaborative vision. The town thanks the doctors' group, M+H Properties, and the Ottawa Valley Family Health Team for working diligently towards this first step in what I know will continue to be a productive relationship over the years."
"This is another step towards the vision of creating a family health team model for the delivery of health care services a reality in the Beckwith and Carleton Place area," shares Richard Kidd, Reeve, Township of Beckwith. "I would like to take this opportunity to congratulate the doctors and team on this achievement."
The Health Hub's Phase 1 building will have a footprint of nearly 15,000 square feet and will rise four floors to allow for 60,000 square feet of occupancy space, with ample parking on-site and barrier-free access to the facilities. Along with the confirmed tenants, the local physician group, OVFHT, and a pharmacy, other Health Hub tenants will include interprofessional health providers integral to primary care, such as diagnostics. The Carleton Place Health Hub allows interprofessional health providers to be located in the same building, helping provide ease of contact, continuity, and coordination of patient care.
Brad McDonald, M+H Properties Group, shares: "We are pleased to confirm to the communities of Carleton Place, the Township of Beckwith, and the Ottawa West Four Rivers Ontario Health Team region, that the Carleton Place Regional Health Hub development is moving according to plan and on schedule. This complex project unites and merges the goals and needs of multiple participants from both the public and private sectors and groups and individuals. To the credit of all involved, particularly the Carleton Place Planning Team, cooperation and collaboration levels are high, allowing us to move swiftly and efficiently towards delivering this unique facility."
Tom Gallivan, Gallivan Developments, says: "A great amount of time and effort goes into a new building's planning before any physical construction work can actually begin. As we confirm we are moving forward according to schedule, at this stage it means that final construction planning and approvals have been completed, and you will be seeing construction equipment on-site during this November month. Earth movers will be on-site first, and you can expect to see foundations and then steel structures take shape over the winter months. That's cold, hard work in winter conditions, but we are working a rapid construction schedule, and barring unforeseen circumstances, we plan to deliver a completed building by next fall."
The OVFHT expansion is supported by approximately $1.2 million in new annual funding from the provincial government to support the primary care expansion and more than $1.5 million in funding over ten years from the Township of Beckwith and the Town of Carleton Place.
The OVFHT does not have a waiting list for new patients at the Carleton Place Regional Health Hub or its Almonte location. The team cannot accommodate waiting list requests at this time.
Quick Facts:
Based on 2019 population projections adopted by Lanark County,  Carleton Place is projected to grow by 97% over the next 20 years. The recent Ministry of Finance report also projects that Lanark County residents aged 65+ will increase by 72% between 2020 and 2046, adding pressure to local healthcare services.
All 15 local family physicians from the Beckwith Family Health Organization and the Carleton Place Family Health Organization will join the OVFHT team and run their practices at the Health Hub with the enhanced support of OVFHT's satellite programs.
The Health Hub will also include independent, interdisciplinary healthcare services (e.g., pharmacy, lab services)
The OVFHT is based out of its Almonte location and will add a second location with the development of the Carleton Place Regional Health Hub.
The OVFHT will offer its programming to Carleton Place and Beckwith residents at its Carleton Place Regional Health Hub. Multiple healthcare providers support each program (e.g., nurse practitioners, registered nurses, respiratory therapists, registered dietitians, etc.). The proposed programs include: 

Primary Care Nurse Practitioner Program
Diabetes and Obesity Program
Frail Elderly and Dementia Program
Mental Health Programming
COPD and Asthma Program
Smoking Cessation Program
Hypertension Program
Memory Clinic

The Family Physician Clinic and Family Health Team operation will occupy one and a half floors of the four-storey building. The ground floor will be home to other health providers such as diagnostic imaging, physiotherapy, massage therapy, optical, podiatry, audiology, and a  pharmacy. The Health Hub welcomes leasing inquiries from all disciplines.
Article Submitted.