I happened to be at my son's place in Kingston next to Base Kingston recently. Right around the corner off Hwy 15 at Innovation Drive is this lovely modern brewery, so I just had to go in and sample the selection. And what a lineup they have! There are the permanent customer favourites with a constantly changing few Seasonal and Sour beers too.
Richard was kind enough to take me through a few flights of beers (not all of them as they have a lot). They come in 473 ml cans and range in price from about $3.76. They also had several 500 ml bottles of special beers (Sours) that change up regularly that come in at $8.50 if I recall correctly. In those, I bought the Buster, 4.5% abv, a barrel aged golden ale made with malted barley, oats and hops. I also got their Saison Series#1 Strong Beer, 6.8% abv made with malted barley, wheat, hops and fruit. Both of these are quite unique and if you like variety in your beers, these add to the mix of quite a selection that they create all the time!
I started with the Bene Pilsner, an extra hopped Italian Pilsner, 5.4%abv., which was golden coloured, a marriage of crispiness with a touch of cereal on the nose and floral hop character; smooth tasting with a clean and light finish, perfect for summer. This one uses Tettnanger, Saaz, Perle and Saphir hops making it a complex yet light and very flavourful Pilsner that is a step above the simpler North American mass-produced commercial Pilsner beers.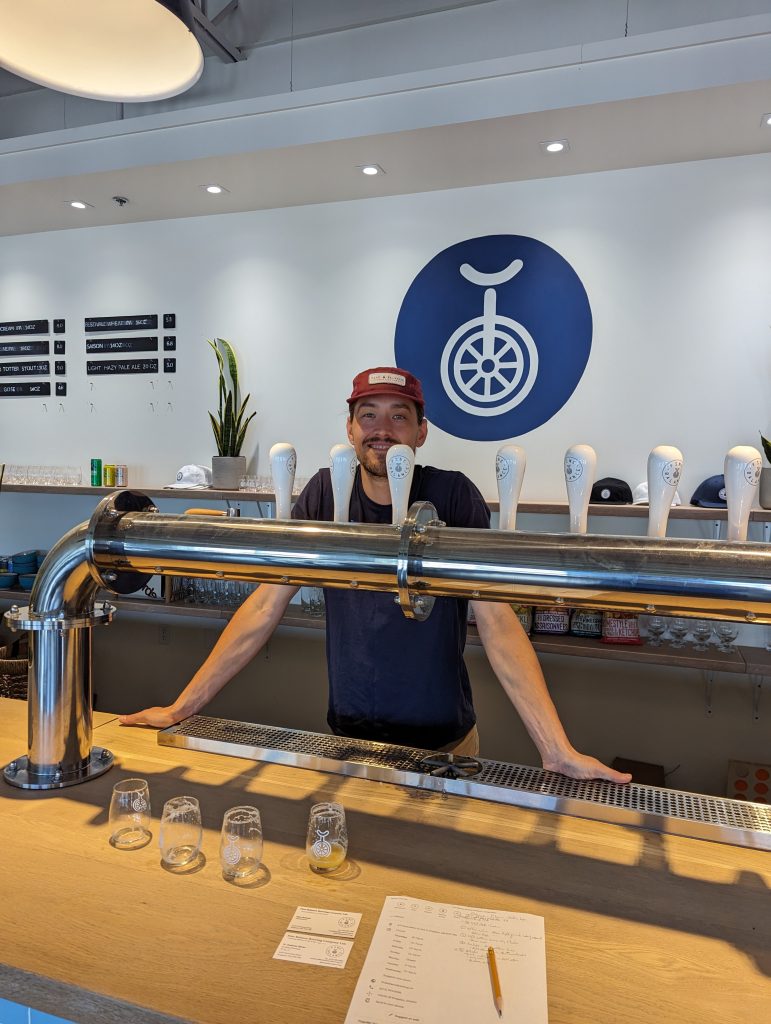 Then it was Light Hazy Pale Ale, an easy drinking brew which, as the name said, was light hazy yellow in colour with a lemon nose. It has lower IBUs (which basically means less bitterness) and alcohol at 3.4% abv; dry hopped (Galaxy and Citra) resulting in thirst-quenching flavours of citrus, passionfruit and peach. I liked this one as a lighter style of Pale Ale for those developing their palates going from light pilsners into the ales.
After that it was on to Double Oats and Cream, a strong beer at 8.1% abv, made with Motueka hops from New Zealand and Mosaic hops that give you a tropical and floral nose, while on the palate you have a touch of sweet honey in a medium bodied beer with hints of blueberries and stone fruit. This is another special release some will like for the lactose and oats that were prevalent, while others like me, will enjoy one before switching to a different beer if out with friends enjoying the evening.
Then it was on to the Sours. A sour beer is one that has been deliberately brewed to achieve high levels of acidity. This elevated acidity delivers a predominantly sour flavor to the beer as opposed to the bitter or sweet flavors found in standard ales and lagers. There many ways to make sour beer, but the most common methods involve brewing the "wort" (unfermented beer), then introducing acid-producing bacteria either naturally by exposing wort to the open air or by adding a bacterial culture. The fermenting beer is then held in stainless steel tanks or oak barrels for several months (or even years!) while the slow, steady bacterial fermentation takes place. During this time, the brewer may choose to add other ingredients such as fruits or spices to achieve a desired flavor. Once the brewer deems the beer ready, a variety of barrels are selected and blended together into a single tank. The finished blend is then packaged into bottles and kegs for consumption.
First up was Fluss Gose, 4.6% abv, brewed with Himalayan pink rock salt, coriander and zest of limes and oranges; a great refreshing summer beer with zip, a floral spice character and fresh citrus notes. Gose belongs to the same family of sour wheat beers which were once brewed across Northern Germany and Belgium. It is usually brewed with at least 50% of the grain being malted wheat. Dominant flavours in gose include a lemon sourness, a herbal characteristic, and a strong saltiness (the result of either local water sources or added salt).
Next up was Watermelon and Basil, which was light on the watermelon as basil predominated the taste in a pleasantly balanced way. This sour too is only available for a short time.
And finally, to finish with something 'off the wall', the brewer's creativity came through in the Orange Creamsicle. This one was lactose dominant giving a mouth feel you used to get as a kid slurping a creamsicle. The sweet orange flavor came through as well. Again it is a unique beer where one will suffice at a sitting as a treat and a good way to finish a flight of tastings!So do get down to see them. Check out their website at www.finebalancebreweing.ca or contact them at info@finebalancebreweing.ca. They have indoor tables and a patio where food is also catered in on a regularly scheduled basis: Otter Creek Wagyu burgers, Food Truck Fridays, trivia night on the last Thursday of every month. Call at 613-544-6696 or contact them to find out what's going on to plan your visit.
Column by Brian Preston
The Travelling Sommelier, Portland, ON at 613-272-3129, brianpreston@hotmail.com