Architect extraordinaire
When we moved into the Keyhole House in Smiths Falls, we decided that the 1960s chandelier with space-age globes hanging in the front hall had run its course. Retro was replaced with Gothic in the form of a three-foot-tall, hexagonal lantern with translucent gold glass. A local antique store was the source of this wonderful piece of history. While electricians were suspending it from a heavy-duty fixture box, they explained that this Gothic lantern was used to light Trinity United Church—formerly known as Trinity Methodist Church. The architect who oversaw the rebuilding of the church in 1894-95, and the architect for the Keyhole House built in 1892, were one and the same… George Thomas Martin! Is it just an eerie coincidence, or was this lantern destined to illuminate the Keyhole House?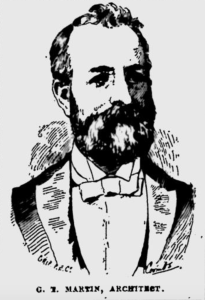 Born in 1844 in Surrey, England, George Thomas Martin immigrated to Canada in 1870. He settled in Toronto, where he worked as a carpenter and builder. His new life there began with heartbreak. After only two years of marriage, his first wife, Anne Maria Trotter passed away at the age of twenty-five. His son, George Frederick, passed away when he was less than a year old. In 1877, at the age of 35, Martin restarted his life, and married Grace Burt. They had five children together. In 1879, they moved to eastern Ontario where Martin was involved in the construction of stations and bridges for the Canadian Pacific Railway. By this time, Martin had begun working as an architect and contractor.
In early 1889, he moved to Smith's Falls and opened an architectural office. He frequently ran an ad on the front page of the Rideau Record newspaper which read: G. T. MARTIN, ARCHITECT, VALUATOR, OFFICE-OVER UNION BANK, MAIN STREET EAST, SMITH'S FALLS. Martin became the architect of choice in Smiths Falls and the surrounding counties of Lanark, Leeds, and Grenville for nearly twenty-five years. He was renowned for his brusque Romanesque Revival style when it came to institutional and ecclesiastical creations. When possible, he made use of the ample supply of building stone found in the Hughes quarry near Perth. He frequently worked with local contractor, Matthew Ryan, and bricklayer, Herbert Allen.
A partial and very impressive list of his architectural accomplishments in Smiths Falls includes: South Ward Public School in 1889, rebuilding of McLaren House Hotel on Beckwith Street at Russell Street in 1889, Wood's Factory which was a woolen factory and oatmeal mill in 1890, reconstruction of St. John's Anglican Church in 1890, Rideau River Bridge on Beckwith Street in 1890, commercial block of three stores on Beckwith Street for Dr. J.S. McCallum in 1891, Beckwith Street store and apartment for J.M. Clark in 1891, Public Market in 1892, Keyhole House in 1893, Union Bank on Main Street in 1893, McGillivray Block on Main Street in 1893, Main Street at Market Street hotel for Andrew Burrows in 1893, Beckwith Street residence for John McGillivray in 1894, complete rebuilding with major additions to Trinity Methodist Church in 1894-95, Main Street commercial block for J.M. Clark in 1899, extensive alterations and repairs to the residence and stables of Elmsley Hall for F.W. Ashe in 1900, hotel at Beckwith Street and Russell Street for John McLaren in 1901, Masonic Hall for George Dart in 1902, Residence on unnamed street for A.L. Ferguson in 1902, Chambers Memorial Hospital on Elmsley Street South in 1910, major addition to C.P.R. Engine Round House and addition to C.P.R. machine shop building in 1912. This list was taken from the Biographical Dictionary of Architects in Canada and does not include his many projects in surrounding counties.
Martin was passionate about developing a transportation system to connect all the summer resorts on the Rideau River with an electric railway. He was also an inventor, and held patents in numerous countries for a range of inventions such as "a method to improve the construction of railway coaches." An 1898 edition of the Ottawa Citizen writes about his invention of "a variable bicycle gear… which is easily adjusted while the rider is in motion."
Martin's wife Grace passed away in 1907, at the age of 60. They had been married 30 years. Martin's third wife was Susannah Wilson whom he married in 1909, when he was 65 years old. He designed and built the house at 41 Daniel Street in Smiths Falls where he was living when he died at the age of 81 on March 4, 1925. He had fractured his hip 11 months prior, which contributed to his death. The DDGM on his gravestone refers to his Masonic Rank of District Deputy Grand Master. George Thomas Martin is buried at Maple Vale Cemetery in Smiths Falls.
Ted & Marion Outerbridge are currently restoring a Smiths Falls heritage home built in 1893 and designed by architect George Thomas Martin. They are also being swept away by local history & mystery. You can follow them at The Keyhole House on Instagram & Facebook. ted@tedouterbridge.com
Column by Ted Outerbridge