The rain held off.
It was cool, though, and some headed back to parked cars to get jackets. Many wore bright blue Parkinson's shirts — there was one bright orange amongst the sea of blue — and it was clear people were more than glad to be out socializing after a long year-and-a-half of solitude.
Centennial Park, close to the water tower in Smiths Falls, was again 'hosting' the Parkinson's SuperWalk; simultaneous SuperWalks occurred at Conlon Farm in Perth and the Mississippi RiverWalk Trail Entrance in Carleton Place.
Eventually emcee Robert Fisher grabbed the microphone, asked for attention from the 25 participants and mentioned how nice it was to have three mayors there — Merrickville-Wolford's Doug Struthers, the Township of Rideau Lakes Arie Hoogenboom, and Smiths Falls' Shawn Pankow.
For Struthers it was a first time at the annual event, a fourth time for Hoogenboom, and a fifth for Pankow. Hoogenboom introduced Councillor Carolyn Bresee, a Township of Rideau Lakes colleague.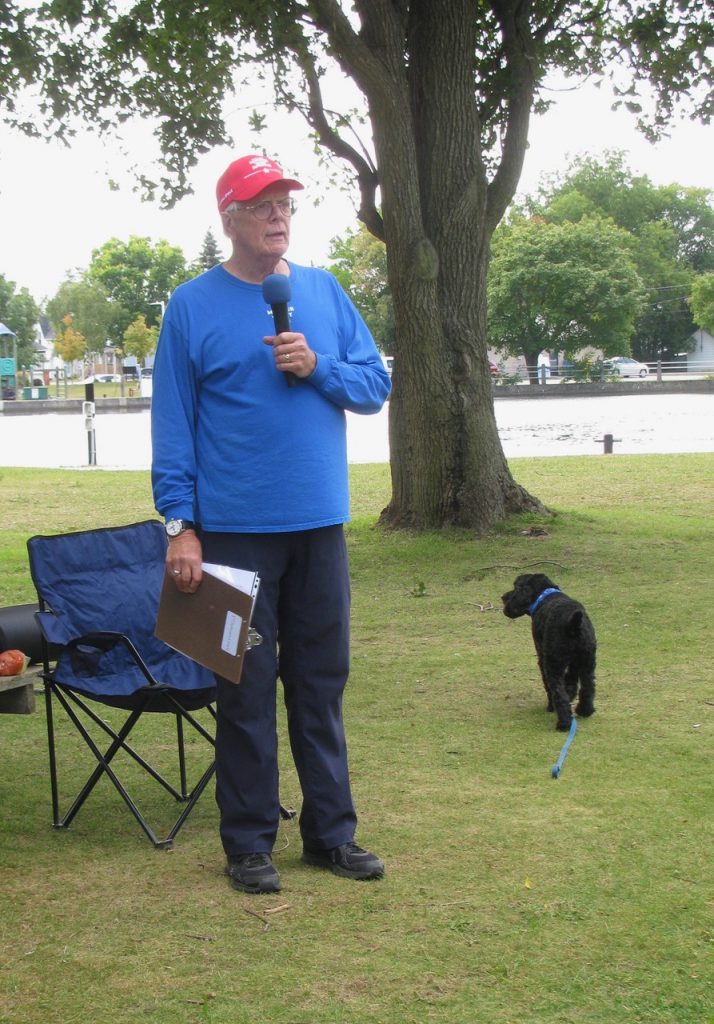 "It's heartwarming to see the turnout every year," Pankow said, adding that successful organizations have champions, and Pat (Evans) and Robert (Fisher) are Parkinson's. He mentioned the camaraderie in the group, Struthers urged his community to find a Parkinson buddy and get out and walk, and Hoogenboom encouraged all to "speak to friends and neighbours, ask them to step up and play a part in this organization."
Just before Fisher gave Kim Ducharme the nod to begin the boxing exercise, he spoke quickly and sincerely about a member of the boxing class.
"Before I go, it's great to see Boxing-Bob here." Bob Arnold was flattened by a stroke in early May, but is again back at class bringing his great laugh and droll sense of humour.
Fisher turned the afternoon over to instructor Kim Ducharme, suggesting perhaps because of the vigorous exercise the group was about to undergo, maybe we could take tomorrow off…?
Probably not.
Ducharme started — squats, jab-cross-uppercuts, quick feet, stretching, bending, deep breathing — 45-minutes worth…and more on Monday.
Shirley Anderson was there to exercise "so I don't stiffen up. I don't want to be in a wheelchair sooner than I have to." Her husband, Jack, was there to support her.
Bob Arnold was there because "Bev told me to." Bev, his wife was there supporting him. "He had a stroke but wanted to be here…and he amazed the crowd with all his moves!"
Robert Fisher was there to support his wife, Pat. It's important to be together as a community, he continued, "to raise money, do research, look for a cure and find services for people with Parkinson's." Fisher has been to Parkinson's walks for 15 years — Toronto, Ottawa and Smiths Falls.
Instructor Kim Ducharme (Evans calls her "the glue that holds us together") says the boxing class, both seniors and people with Parkinson's, is dear to her heart. "I love helping out."
Evans' son Matthew, and his girlfriend, were there. "It's important to support the family. [People with Parkinson's] take on this journey, work out what Parkinson's is for them, what they're comfortable with, and how they're going to manage. For my Mom it was organizing a boxing group and participating in the community. I want to support her in those initiatives."
Mayor Pankow got the final word: "The encouraging part is what a difference this makes for people in our community." For anyone with a health condition, when you have this kind of support "it makes a difference in the quality of their life and in their ability to move forward while facing challenges.
"There are a lot of organizations I'm passionate about…the SuperWalk is one of them."All in all, Lanark North Leeds, with one of the smaller populations, as of Saturday had raised $65,000. To donate, go to donate.parkinson.ca/lanarknorthleeds or call 1-800-565-3000.
Article by Sally Smith