This year 2 local students have been selected for the 2023 Summer Company Program in the Lanark County/Smiths Falls/North Leeds Grenville area. Summer Company provides an opportunity for students to be their own boss and to start/run a business for the summer. The successful students for 2023 from this area are:
Sam Molomaya (Sam's Lawn Beautification)
Sam will be servicing the village of Merrickville offering lawn maintenance. He has a friendly positive attitude, and his services will satisfy his customers' desire to have their lawn & property looking clean, tidy, and well maintained. Let Sam do the work, so you can enjoy the summer. You can reach out to Sam through email sammolomaya@gmail.com or by phone 613-269-4923 or 613-581-8021.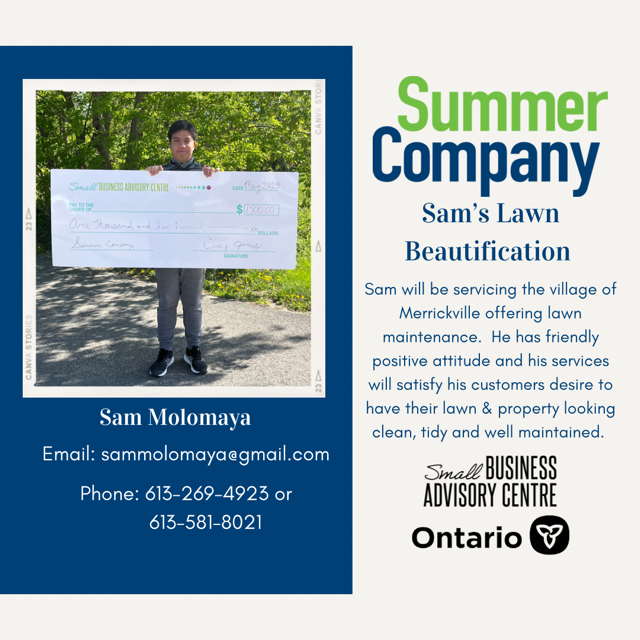 Annie Burnett (Tyler Lane Ceramics)
Tyler Lane Ceramics is a pottery studio it is based just outside of Smiths Falls in Rideau Lakes. Annie will focus on simple designs and offering a range of functional wares (mugs, bowls, vases). In addition, she hopes to work towards a collection of some more sculptural, decorative work over the summer months. She is open to custom orders and commissions. You can follow along with her business on Instagram @tylerlane_ceramics or email tylerlaneceramics@gmail.com to place an order or discuss getting a custom piece made.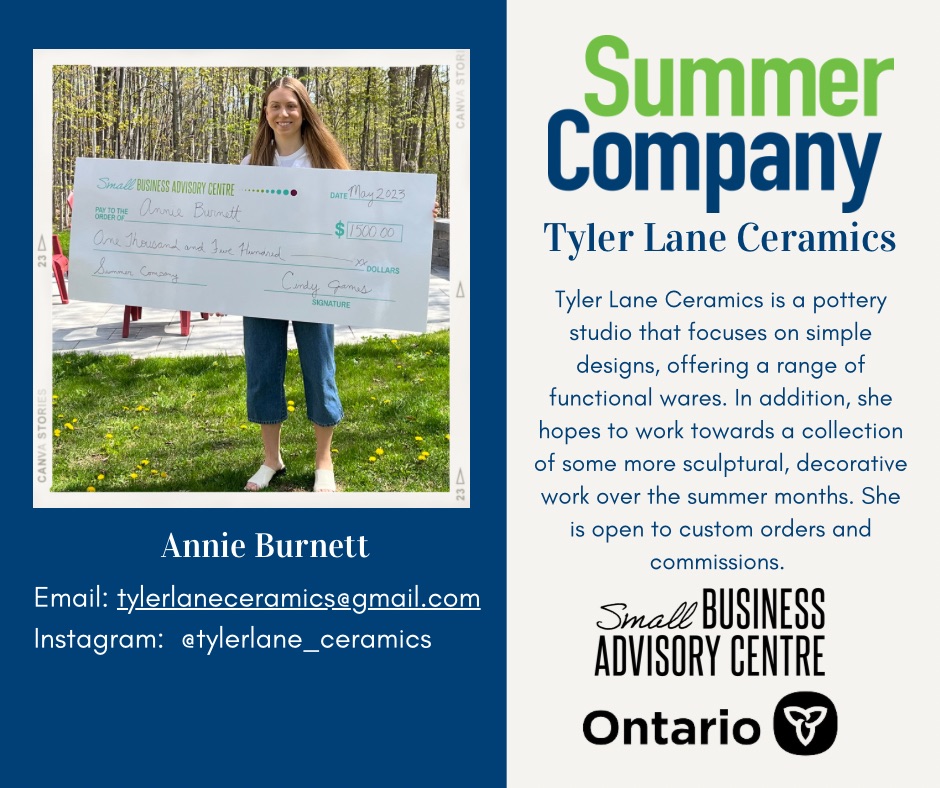 The Summer Company Program is an initiative of the Ontario Government and is in place to motivate and educate young people to possibly choose entrepreneurship as a viable career, equip them with the tools necessary to succeed and provide hands-on business training and mentoring. Summer Company is aimed at students between the ages of 15-29 in school and returning to school in the fall. The successful students receive an award of up to $1,500 to help with business start-up costs, and a $1,500 award in September upon returning to school; approximately 12 hours of business training; and an opportunity to receive support and advice on operating their summer business.
The program is in its 22nd year promoting entrepreneurship to young enterprising students. The students will spend their summer gaining invaluable business experience, earning money, and learning what it means to be your own boss. They will be in good company with many other young entrepreneurs from across Ontario.
For more information about the Summer Company Program, please contact Cindy James at the Small Business Advisory Centre (Smiths Falls/Lanark County/north Leeds Grenville) at 613-283-0062 or via email at cjames@smallbizcentre.ca. For more info about the Centre please check us out online at www.smallbizcentre.ca , like/follow our Facebook page @smallbizcentre and our Instagram page @smallbusinesscentre_sf_lc.
About the Small Business Advisory Centre Smiths Falls/Lanark County/north Leeds Grenville:
The SBAC offers free information and advisory services for anyone interested in starting their own small business and for existing small business operators. The Centre is an initiative of the Ontario Government and partners with the Town of Smiths Falls, the County of Lanark and the United Counties of Leeds and Grenville. A business advisor is available by appointment for one-on-one sessions. The SBAC provides a number of business webinars/workshops/programs throughout the year which you can find on our website www.smallbizcentre.ca, you can reach us at 613-283-0062 or by email cjames@smallbizcentre.ca.
Article Submitted