Newspaper reporter and photographer, sailor, police officer, elite distance runner, community volunteer, and seeker after intelligent life in outer space – Perth's own Terrance O'Hearn is a man of many talents.
After contributing a monthly column to the Hometown News for a number of years, Terry will be stepping back a bit due to health issues in his family. He does plan to keep writing when he can.
A native of Gananoque, Terry has lived in Perth since 1967.
Although Gananoque is a long way from any ocean, Terry joined the Royal Canadian Navy in 1961 because his father and uncles were all navy men. His father served in World War II as a stoker aboard HMCS Waskesiu, the first Canadian-built frigate. He was a member of the crew when Waskesiu sank a German U-Boat in the North Atlantic on Feb. 24, 1944.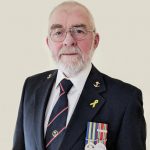 Terry's own naval service began in a top secret communications branch as a "radio man special," spending nine months at Inuvik. Located a few miles from the existing community of Aklavik, Inuvik was specially built by the government during the late 1950s to meet the need for a Cold War installation in the Arctic. The small community was home to "a huge array of antennas," Terry recalled.
In 1963 Terry headed to the East Coast to serve on HMCS Chaudiere (DDE 235), a destroyer escort. He also managed to spend a few weeks aboard HMCS Lanark, the World War II frigate named for Lanark, Ontario. (The ship would have been named after the town of Perth, if the Australian navy had not already commissioned a vessel named for Perth, Australia.)
Prior to joining the navy, Terry had worked for a couple of years at the Kingston Whig-Standard "right out of business school." He covered both country and city beats before becoming a photographer.
After leaving the navy in 1964 he went back home to Gananoque and took a year off "partying with the boys."
But it wasn't long before he moved on to the job he would occupy for nearly 30 years, joining the OPP in 1967, and moving to Perth. Terry didn't spend a lot of time at home, since he was attached to the OPP's General Headquarters in Toronto and tasked with helping to implement the first computerized reporting system province-wide. This involved a lot of travelling.
"I saw pretty much every detachment in the province," said Terry.
At home in Perth, Terry joined forces with local high school teacher Tom Graham in 1980 to form a running club. Perth Runners had a large membership, including some residents of Smiths Falls, which didn't have a club of its own. Members included Smiths Falls lawyer Mike Cliffen and Dr. Rick Moxon, the club's unofficial physician. Terry had met Graham through the Glen Tay Block Race, the iconic 14.7 km run which has been held in Perth since 1907. In fact, Terry helped organize the race every year for a large portion of its history – four decades – making him the organizing committee's longest-serving member.
He also found time to train for and compete in 14 marathons, with his best time clocking in at 2 hours, 41 minutes. A time like that is good enough to qualify for the Boston Marathon, which Terry (then aged 39) and Smiths Falls runner Andy Taylor competed in together back in 1982. Unfortunately, they found the weather a little too hot, and became dehydrated, so their times weren't the best. Terry recalled that helpful spectators were offering beverages such as orange juice along the route, and the sugary drinks made Taylor sick.
Terry also contributed to the community by providing websites and social media promotion for both the Glen Tay Block Race and the annual Perth Polar Bear Plunge until recently. He is proud to have been involved in promoting Perth's World Record Kilt Run. In 2016 the run attracted an official total of 3,670 participants, to enter the Guinness Book of Records as the largest number of runners to take part in a race while wearing kilts. "It's hard to believe you could pack that many people into downtown Perth," said Terry.
Terry says his volunteer work was inspired by the example of others, such as Tom Graham and fellow OPP officer, past Legion president and former Perth deputy mayor John Gemmell. "It just seems to happen that you're in a certain position at a certain time," he said.
When Terry volunteers for a cause, Gemmell told the Hometown News, "he gives 100 percent, or he doesn't get involved.
"When he's in, there's no quitting."
Of Terry's 40-year commitment to the Glen Tay Block Race, Gemmell said, "A lot of times he was the driving force." Appropriately enough, given Terry's service in the navy, he described his long-time friend as "always an anchor."
Terry's volunteer work has also included serving on the Royal Canadian Legion executive and working on the exhibits in the local branch's war museum. He helped produce life histories of veterans Eric Devlin and General Don McNaughton, who have both passed away, to give to their families. In the last municipal election, Terry was campaign manager for Gemmell's unsuccessful run for Perth mayor. (He came within 70 votes of winning.)
Since 2000, Terry has also been a participant in the SETI (Search for Extraterrestrial Intelligence) project, an international effort based in the University of California at Berkeley. Data from a worldwide network of telescopes is "crunched" through hundreds of computers operating constantly. In case anyone thinks this is not a serious effort, Terry added, the late theoretical physicist Stephen Hawking was involved in it at one time.
Article by Chris Must