During Tuesday night's Committee of the Whole meeting in Smiths Falls, Director of Community Services Art Manhire outlined the next steps in moving forward with the installation of new playgrounds in Victoria Park and Hyland & Corbett Park. The town had recently requested public feedback on playground designs via their Speak Up, Smiths Falls! platform.
"We were elated by the response from Speak Up, Smiths Falls!," Director Manhire said, "We received 869 responses." Survey results showed "overwhelming support for option 1" for both playgrounds. The "option 1" playground in both cases was designed by Playground Planners, and Manhire recommended awarding the tender immediately, saying, "we'd really like to move on this quickly." He noted that "there is a significant lead time, so if we get approval we'll place the order tomorrow."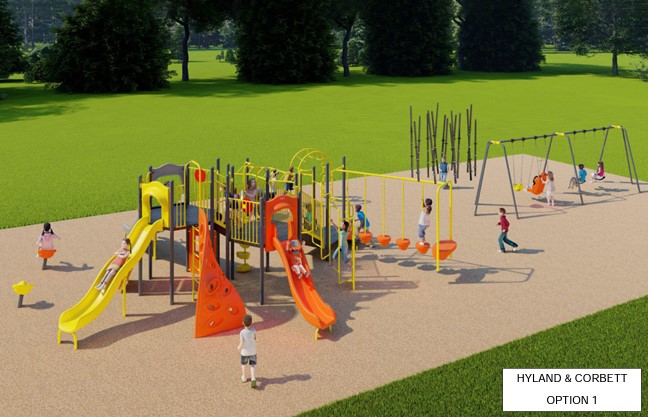 Council members were in favour of this, and pleased to see the playground plan moving forward.
"This is a major component of the town's strategic plan," commented Councilor Niki Dwyer. She requested clarification from Manhire about the surface of the playground area: it will be a "rubber membrane that is fully accessible." As well, she noted that the new playground equipment in Victoria Park will not be close to the parking lot and water, but down on the fenced-in area near the swings.
The cost of the two playgrounds from Playground Planners comes in at $243,779.10, approximately $6000 under budget.  Playground Planners estimates that delivery and installation will take 16-20 weeks from the time the playgrounds are ordered.
Article by Janelle Labelle