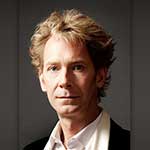 I have made my living as a magician since I was 19, and the art of magic has been part of my life ever since. Over the last 22 years, my wife Marion and I have had the privilege of touring theatres and performing arts centers in Canada and the U.S., with a few detours to such exotic places as China, Germany, and the world-famous Magic Castle in Hollywood. In 2018, we moved into the Keyhole House in Smiths Falls with the goal of restoring this grand Victorian structure.
One of the first things I did upon our arrival was to acquire the comprehensive history of Smiths Falls by Glenn Lockwood. Due to my background, I was immediately engrossed in the book, and began searching the index for the term "magician". I found one entry on page 419. As it turns out, a famous Italian magician by the name of Signor Bosco performed at the Smiths Falls Opera House in January 1888!
The discovery that a world-renowned magician had stood onstage in this town 133 years before me fueled my quest for information about Signor Eugene Bosco (1823–1891). I combed my magic library for anything related to him. His posters claimed he had performed for most of the royalty in Europe. At one point in his career, one of his illusions went horribly wrong and he accidentally shot off several of his fingers. His reaction was to modify his illusions and continue to perform. After all, the show must go on! One of his signature tricks was called the Sand Frame, an ingenious magic prop which caused small flat objects like cards and photos to disappear and reappear. This prop is still in use today by magicians all over the world and the methodology was published in More Magic by Professor Hoffman in 1889. I am grateful to have a copy in my library.
Researching Signor Bosco was relatively easy due to my extensive collection of antique magic books. Acquiring information about the Smiths Falls Opera House was more of a challenge, because nobody I spoke with was aware that it had ever existed. What I am about to share with you comes from a small collection of local history books I have accumulated, combined with the time I have spent in the basement of the Smiths Falls Public Library consulting old newspapers on microfilm. I am also extremely grateful for assistance from the incredible team at the Smiths Falls Heritage House Museum.
The Wesleyan Methodist chapel was built circa 1839-43 where the Post Office is now located on the corner of Church and Market Street. In 1885, the rapidly growing Methodist congregation moved down the street to a brand-new Trinity Methodist Church which was built on the corner of Russell and Market Street. Ten years later, architect George Thomas Martin was contracted for a complete rebuilding with major additions to the original building. It was the first church in Smiths Falls to feature a large basement which was used for church suppers, rummage sales and Sunday School classes. It is now Trinity United Church.
Ogle Carss had a brief stint as mayor of Smiths Falls and lived in Roclyn House with his wife Isabella. He was a real estate speculator known for Carssville and Grand View Park. In 1885, he purchased the old stone Methodist chapel which had seating for 700 people and transformed it into the "Opera House". This venue hosted a variety of entertainment ranging from Ida Van Cortland and her grand production of Merrivale's famous "FOR-GET-ME-NOT!" to the local Philharmonic society with Senator Francis T. Frost as president and, all the way from Italy, Signor Bosco the magician. The January 5, 1888 edition of the Rideau Record newspaper ran the following article to spread the news about Signor Bosco's upcoming performances:
Signor Bosco.
This famous magician will appear at the Opera House on Tuesday, Wednesday and Thursday evenings, Jan. 10th, 11th and 12th. He recently appeared at Peterboro and the Daily Times of that city says: "Bosco gave the best show of the kind ever in Peterboro. It was one long laugh from beginning to end. The presents he gave away were numerous, elegant and costly and he kept faith with the public in every respect." The Daily Review says: "Bosco is by far the cleverest magician that ever visited Peterboro. He has light hair, a luxuriant moustache, and wears a faultless evening dress and a seemingly perennial smile. His voice is so musically persuasive that it lulls the audience into a sense of comfort and good humor. His presents were very numerous and both elegant and costly." Admission was one envelope 25 cents; reserved seats with two envelopes 35 cents. Now on sale at the bookstore.
After two years of Opera House sleuthing, a eureka moment occurred thanks to Leisa Purdon-Bell from Heritage House Museum. Leisa discovered a misfiled photograph of Robertson's Wholesale Grocers with a note on the bottom which read "The Old Opera House". She sent a copy along with a 1901 Insurance Map and explained, "I double checked the address on the 1901 Insurance Map and it showed this photo to be true by the dimensions and materials of the building. It was stone (shown in blue) with a red brick addition (shown in pink/red). Three stories with an elevator. The Insurance Map indicates that at some point they held "Moving Pictures" there as well."
George Robertson & Son Ltd took over the space in 1913 under the management of W. H. Churchill. This company was a well-established firm from Kingston and had been in business for 60 years. They enlarged the space and it served as a wholesale warehouse for the next 50 years. In 1963, it was sold and demolished to make way for the new Federal Building which opened on July 25, 1964, and which now serves as the Smiths Falls Post Office.
Column by Ted Outerbridge