The Upper Canada District School Board (UCDSB) is getting set to provide students with additional hands-on and real-world learning in skilled trades this spring.
Through funding provided to the UCDSB Specialist High Skills Major Program and the Ontario Youth Apprenticeship Program, the UCDSB has been able to secure the St. Lawrence College Mobile Skills Training Lab for 11 weeks, starting the week of April 4.
Two mobile training labs will be onsite at each of the 11 selected secondary schools for a week and will provide introductory skills in carpentry, welding, electrical, fitness, nutrition and culinary.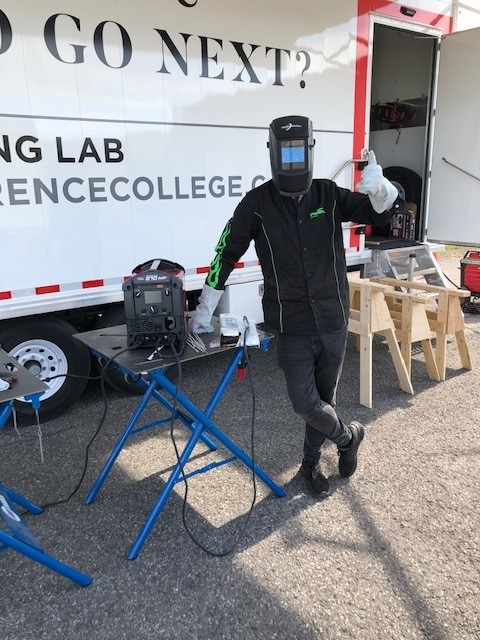 This initiative will focus on re-engaging students and teach students who are generally under-represented in these fields the basic skills required to be successful in related professions.
"We are very excited to be able to bring these trailers to the UCDSB. Students will get to try out a variety of skills, get to use their hands and really dig into these experiences," says Cameron Jones, Vice-Principal of Student Success. "We are putting in extra efforts to ensure that young women and Indigenous youth are aware that these career paths are real options for them."  
Over the course of the 11 weeks, approximately 1,400 students from Grade 8-11 will get to experience these mobile training labs.
One mobile training lab will focus on skilled trades and carpentry, welding, and electrical training. Students will have the opportunity to use hand and power tools, and training aids such as welding simulation, and virtual reality for an innovative, hands-on learning experience.
The second training lab is focused on wellness, which includes teaching students about independent living, meal planning with simulations of food handling, nutrition, fitness and introductory cooking skills. 
The workshops will be 2.5 hours each and at the end of the sessions, the students will earn a micro-credential certificate from St. Lawrence College.
The labs will be onsite at the following schools:
| | | |
| --- | --- | --- |
| School   | Location   | Date |
| Carleton Place High School  | Carleton Place | April 4-8  |
| Perth & District Collegiate Institute   | Perth | April 11-14 |
| Smiths Falls District Collegiate Institute   | Smiths Falls | April 19-22  |
| Gananoque Secondary School | Gananoque | April 25-29  |
| Thousand Islands Secondary School  | Brockville | May 2-6 |
| South Grenville District High School  | Prescott | May 9-13 |
| Seaway District High School  | Iroquois | May 16-20 |
| St. Lawrence Secondary School  | Cornwall | May 24-27 |
| Tagwi Secondary School  | Avonmore | May 30 – June 3 |
| Rockland District High School  | Rockland | June 6-10 |
| Cornwall Collegiate and Vocational School  | Cornwall | June 13-17 |
The UCDSB will continue to update local communities as students in their areas get to experience this training.
"I'm proud that we have invested in this opportunity for students," says UCDSB Chair John McAllister. "Trades people are in high demand and these are career paths that those who are interested in working with their hands should seriously consider. The fact that students can earn a college-level micro-credential certificate through this opportunity is an excellent way to start out." 
The UCDSB has 1,517 students enrolled in SHSM throughout the school district and offers programming in 14 different areas. Learn more about the SHSM opportunities within the UCDSB and the Ontario Youth Apprenticeship Program.
Article submitted