The birth of Smiths Falls begins with a tale of intrigue and espionage. During the American Revolution (1775-1783), the Smyth family were involved in covert spying missions. Working on behalf of the British Crown, they communicated using cipher disks, secret coded messages, and code names. Several members of the family were imprisoned and managed some cunning, death-defying escapes.
In 1770, the Smyth family emigrated from Dublin, Ireland to the Province of New York in America. Dr. George Montague Smyth (code name Hudibras) was a talented surgeon. His wife, Rebecca, was such a good spy that we are not certain of her real name. We do know however, that her code name was R.J. or R.I. They had two sons, Terence (code name Young Hudibras), and Thomas.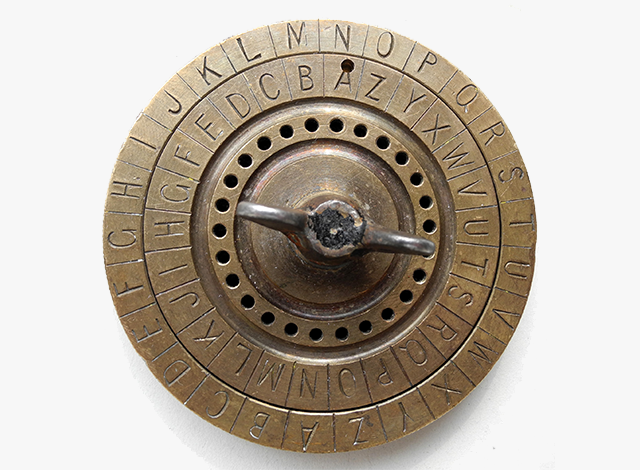 The Smyths spent most of the American Revolution working for the British, through George's secret United Empire Loyalists espionage networks. When George was not in prison for spying, he practiced as a surgeon in a rebel military hospital, where he surveilled the Americans. He was devoted to "affording every Intelligence that was supposed conducive to the Royal Cause." Rebecca would schedule George's dispatches for him by risking the lives of their own sons, Terence and Thomas, using them as messengers.
By the end of the war in 1783, George had escaped from prison on at least two occasions. He had been promoted and was responsible for recruiting spies and capturing enemy spies. George eventually moved to St-Jean-sur-Richelieu in Quebec, where he remained until he died in 1788. His sons Terence and Thomas settled in Elizabethtown, Ontario, the site of modern-day Brockville, on the St. Lawrence River. Thomas was a lieutenant in Sir John Johnson's King's Royal Regiment of New York and would later become a Major in the Leeds Militia.
As compensation for their services and those of their late father in the American Revolution, Terence and Thomas Smyth successfully petitioned the Crown to grant them land. Terence received an abundance of prime land on the Rideau which was suitable for building mills. We now know this townsite as Burritt's Rapids. Over time Major Thomas Smyth was granted a total of 3,900 acres of land, most of which was in the township of Elmsley. 400 acres of land was granted to him in the form of lots 1 and 2, Concession Four, Elmsley Township, on July 28, 1784. This uncultivated land lacked roads, trade, and commerce, but it boasted water power on the Rideau. He named it Smyth's Falls.
In 1810, Thomas Smyth was experiencing cash flow issues. He mortgaged his 400-acre Smyth's Falls townsite to Joseph Sewell, a Boston merchant, for 233 pounds. The mortgage was for one year. Fourteen years later, Smyth had not repaid the debt. In 1824, Sewell brought action in York, Toronto for foreclosure of the mortgage and he obtained judgement. During the legal proceedings, Smyth dismantled and removed a small sawmill which he had built on Lock Island, with the help of William Merrick and his sons. The Smyth's Falls townsite was auctioned off by Sheriff John Stewart in Brockville in 1825. The townsite moved through the hands of Charles Jones and Truman Hicock. By 1831, James Simpson and Abel Russell Ward had become the owners.
Despite this setback, Smyth continued to retain influence in the area as he held title to 1,800 acres of land in South Elmsley near Smiths Falls. During the construction of the Rideau Canal, he began to sell this land to settlers. Major Thomas Smyth died on November 11, 1832, at the age of 64 at his residence in Elizabethtown. The Brockville Recorder wrote "… he was in his usual health when he went to bed on Sunday night, and in about an hour or little more was found dead in his bed by his son Terence Smyth, Esq. of Merrickville, who providentially was on a visit to his father."
In 1835, Smyth's two sons, Terence and George Henry, began legal proceedings to regain possession of the 400-acre Smyth's Falls townsite. Simpson and Ward tried unsuccessfully to reach a compromise with them. The Upper Canada Jurist provides details of the Smyth versus Simpson lawsuits and appeals which spanned 15 years. Hundreds of pages of evidence were reviewed, and witnesses traveled across the country to testify. In 1839, Terence Smyth's new house containing most of the documents related to the lawsuit "mysteriously" burned to the ground. In 1841, the Vice-Chancellor ruled in favour of the Smyths. In 1846, the Court of Chancery and the Court of Appeals also decided in favour of the Smyths. However, in March of 1847, the Court ruled in favour of Simpson and Ward. The Smyths launched an appeal to the Privy Council of London in 1850, which was unsuccessful.
Ted & Marion Outerbridge are currently restoring a Smiths Falls heritage home built in 1893. They are also being swept away by local history & mystery. You can follow them at on Instagram, Facebook, and TikTok @thekeyholehouse or email ted@tedouterbridge.com
Column by Ted Outerbridge