"The only limit to a girls' dreams and achievements should be the extent of their own effort."
Imagine a gender-equal world. A world that is free of bias, stereotypes and discrimination. A world that is diverse, equitable, and inclusive. A world where difference is valued and celebrated. Generation after generation of women have been trailblazing the path towards an existence where girls and women can choose to be who and what they desire to become. For well over a century, International Women's Day has been setting the stage for women's equality. IWD (March 8), is a global day of recognition that has been celebrating the social, economic, cultural, and political achievements of women since its first gathering in 1911. Each year carries a theme to raise awareness for women's rights, this year's theme, "Break the Bias," is highlighting the fact that there remains a deliberate or unconscious bias that continues to prevent women from excelling. #BREAKTHEBIAS invites us to cross our arms in solidarity to actively call out gender bias, discrimination and stereotyping.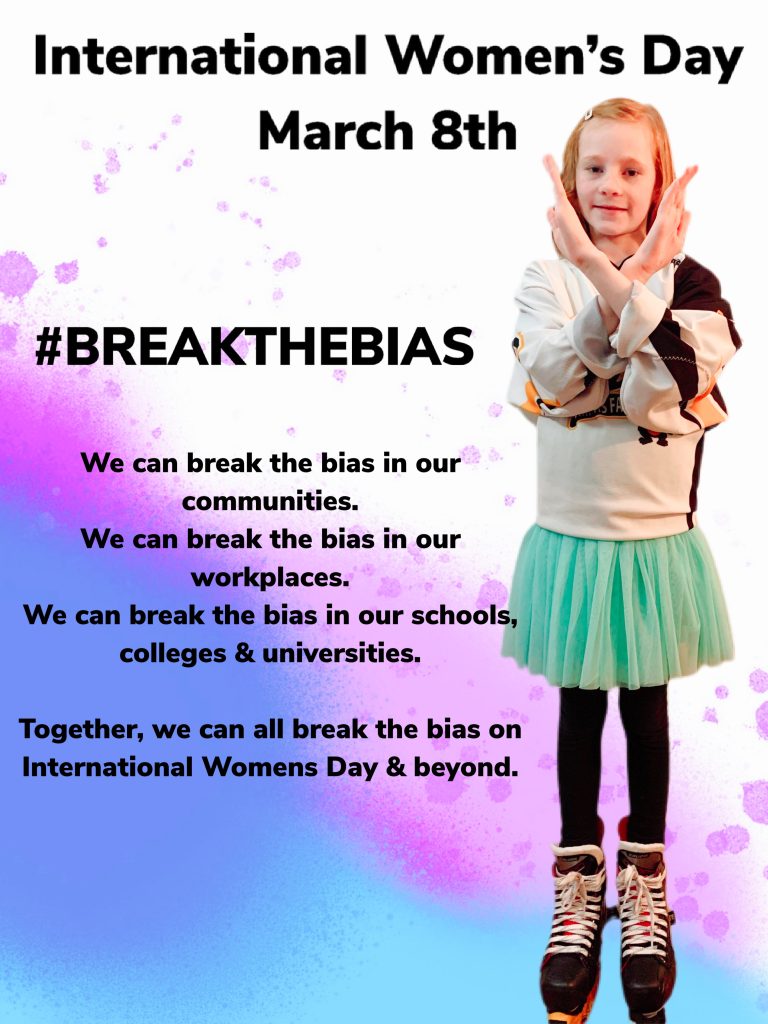 "Girls are bad at math – Boys are not good readers."
"Women are too emotional for some kinds of work – especially while pregnant".
"Equal rights for women means fewer rights for men."
"Feminists hate men."
"Dolls are for girls, trucks are for boys."
"Assertive women are not feminine, girls should not be bossy."
"Women must be thin & classically beautiful to be appealing to men."
Do any of these phrases sound familiar? Biases don't have to be intentional to be real. Biases and stereotypes are invisible boundaries that make it challenging for women to move ahead, most specifically in male-dominated industries, but acknowledging that partiality exists simply isn't enough: action must be taken to continue to create equality for all. Which is exactly what we are seeing happen in male dominated industries such as the NHL (National Hockey League).
It appears as though the boys-club era of NHL management could be ending, or at least expanding into seeing more female leadership roles around the boardroom table. The Vancouver Canucks made waves in the hockey world in January 2022, when they hired Émilie Castonguay, making her the second woman ever to be hired as an assistant general manager in NHL history and the first in 25 years.
The hiring occurred just a few days after the Canucks hired Rachel Doerrie in an analytics role. In the space of one week, the Canucks drastically increased the diversity of their hockey operations department: they went from zero women to two. Back in 2019, there were on average 47 employees for an NHL team's hockey operations, according to an analysis by The Athletic. Only two of those staff, on average, would be women. Many teams at the time had no women in these types of roles. The Toronto Maple Leafs had by far the best gender diversity of any NHL team: even then, 84 per cent of the club's staff were men.
Perhaps you have heard of the glass ceiling effect. This term, that first originated in 1978, represents the invisible barrier within a hierarchy that prevents women and minorities from rising to top ranks in companies or organizations. What you may not realize is just how pervasive the glass ceiling still is, even several years into the 21st century. While women have been shattering glass ceilings throughout the workforce and breaking down barriers towards high-ranking corporate positions which are more commonly male dominated, at least one glass ceiling remains: the NHL has yet to see its first woman in the crucible-like role of head coach or general manager of a team. The recent high-profile hiring and promotion of women in the NHL is inspiring, and shows young women in particular that this could be a viable career path for them. Will this positive trend continue in the sports world?
Collectively we can all #BreakTheBias.
Article by Shannon McLellan