$294,610.53 has been raised for local charities, thanks to the Carleton Place Catch the Ace progressive raffles. Supporting both the Carleton Place & District Memorial Hospital (CDPMH) Foundation and the Captain A. Roy Brown Branch 192 Royal Canadian Legion (Legion), each of these charities will use these funds to give back to local residents.
The online provincial progressive raffle, which began in August 2021, wrapped-up recently in Week 37 on April 28, 2022 when 'Acey', the raffle's beloved Ace of Spades, was caught. The largest progressive pot to date of $187,492.00 plus the weekly pot of $8,337.00 was won by winning ticket #5405653 holder, Jacques Trottier.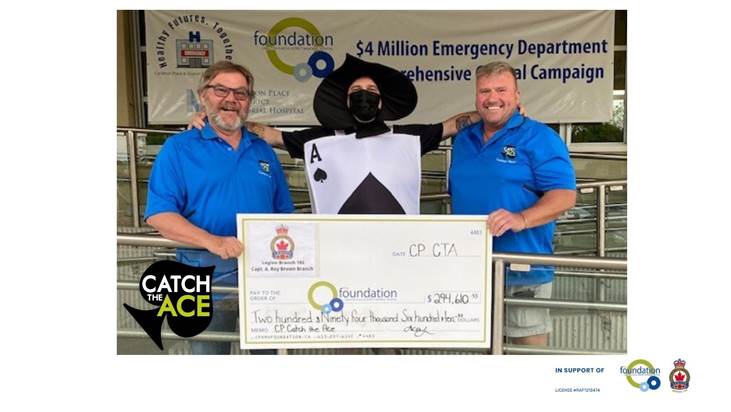 Mr. Trottier had been supporting the raffle, purchasing numerous tickets per week, from the very beginning. The odds of winning are equal for each ticket purchased, but the probability of winning is increased with a greater number of tickets purchased in each draw. This was the strategy Mr. Trottier employed. As such, he had won several weekly pots before his big win at the end of April. When asked how he's been so lucky to win, he shared "if I win, I always invest a big portion of my winnings back into the following draw."
As open and transparent charitable organizations, the CPDMH Foundation and Legion have worked alongside the Alcohol and Gaming Commission of Ontario (AGCO) – which oversees the raffle and issues the lottery licence – in the administration of the raffle. Proactive steps are taken with every weekly draw to ensure all winners are legitimate before they are announced.
As a provincial raffle overseen and approved by the AGCO, play is open to all eligible residents Ontario-wide. The Carleton Place Catch the Ace progressive raffle attracted multiple players from across the province with the winner being a resident of Alexandria, Ontario. When asked why he supported the raffles in Carleton Place, Mr. Trottier responded:
"I grew up in a small town and I have always felt that it is important to support small town events and lotteries… I know that the money is going locally to charities in need of the funds. I like to know that my money will help others if I purchase to support, unlike the larger provincial lotteries. The odds of winning are also higher than playing Lottario 649, but better yet, the money spent… has a real impact."
At the CPDMH Foundation, proceeds from the raffle support needed life-saving equipment purchases at the hospital. The Legion uses the funds to support a wide variety of services for Veterans, their families and the community.
The next Carleton Place Catch the Ace progressive raffle will be launched on September 1, 2022. For more information about this #1213474 raffle, please contact: info@cpcatchtheace.ca or call 613-257-2200 x ACE (223).
Article submitted